There are broadly six categories of security cover: X, Y, Y-plus, Z, Z-plus, and SPG (Special Protection Group). The SPG is meant only for the Prime Minister and his immediate family, other protection categories can be provided to anyone about whom the Centre or state governments have inputs of a threat. There are various kinds of security cover even within these levels. These include:
Security of residence
Mobile security
Office security
Inter-state security
If a person is entitled to Z+ category security, then he or she will get security all over the country. the security agencies NSG or CISF is deployed in the Z+ category security, but when a person goes out of the state then only few commandos go with that person rest is the responsibility of that particular state to provide security. But for this, VIP has to give prior information about the tour to the state.
Z+ Security :
Z+ category has 36 personnel including more than 10 NSG commandos. It is considered second to SPG category. The commandos are equipped with advanced weapons and the latest gadgets and gizmos. This security cover has been given to around 25 VVIPs.
Z Security :
Z category security has a security cover of 22 personnel, including four or five National Security Guard (NSG) commandos. The extra security is provided by the Delhi police or the CRPF and one escort car. The commandos are armed with submachine guns and modern communication equipment. Besides this, they are well trained in martial arts and unarmed combat skills. Around 60 VIPs are under this security cover.
Y+ Security :
Y+ category is a security detail of 11 personnel, including 2-4 commandos and police personnel. The Y+ security cover constitutes the third rung of a multi-level framework that oversees the assignment of protection to people who are believed to be facing a certain level of threat. Bollywood actor Kangana Ranaut has been given a Y plus security cover by the Modi government in light of her claims about fearing and facing a certain level of threat, which followed her statements about the presence of an alleged drug nexus in Bollywood.
Y Security :
The VIPs who come under this security cover are provided with 11 security personnel, including one or two commandos and two PSOs. Fewer than five VIPs are currently provided this security cover.
X Security :
Only two personnel provide security under this category. X security entails the most basic protection. There are around 70 VIPs who are provided with this security.
Special Protection Group (SPG) :
The strength of the SPG is kept classified and it used to be provided to the current and former Prime Ministers of India and their immediate family members. The SPG was formed in 1988 after the assassination of Prime Minister Indira Gandhi in 1984. Only five people – Prime Minister Narendra Modi, Former PM Manmohan Singh, Rahul Gandhi, Sonia Gandhi and Priyanka Gandhi – in the country were earlier provided this security cover. But now only PM Modi has SPG protection.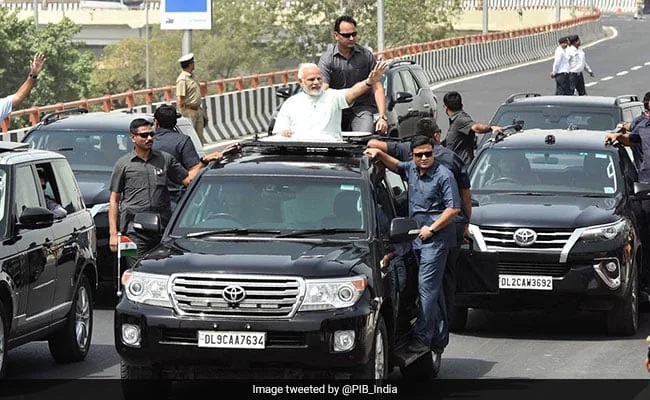 NSG :
The National Security Guard (NSG) is an elite counter-terrorism unit under the Indian Ministry of Home Affairs (MHA). It was founded on 22 September 1986 under the National Security Guard Act, 1986, following Operation Blue Star, the Golden Temple attack and the assassination of Indian Prime Minister Indira Gandhi, "for combating terrorist activities and protect states against internal disturbances. National Security Guard personnel are sometimes referred to as The Black Cats.
Government to remove NSG commandos from VIP security duties :
Official sources said the Union Home Ministry "is of the view" that the National Security Guard (NSG) should concentrate on its original charter of handling specific tasks of counter-terrorist and anti-hijack operations and that the task of securing high-risk VIPs was proving to be a "burden" on its limited and special capabilities. "The NSG needs to go back to its original mandate of counter-terror and anti-hijack duties. That is the reason behind the latest move," a senior official in the security establishment said.
The removal of VIP security duties from the NSG will result in freeing about 450 commandos, who will be used to enhance the fighting components of the force. As per a plan being worked out, the security of the VIPs under NSG cover could be handed over to paramilitary forces such as the CRPF and the CISF which already provide security to about 130 prominent persons jointly.
The CRPF was recently handed over the security of five ex-SPG protectees former PM Manmohan Singh and his wife, Congress President Sonia Gandhi and her children Priyanka and Rahul apart from securing Lok Sabha Speaker Om Birla. The Central Reserve Police Force is well suited for handling the new task, After a major security review by the Modi 2.0 government in July last year, 1,300 commandos had been freed as the Centre removed or scaled down the security cover of as many as 350 politicians and former and present lawmakers.