The Northeast of the nation is where the Indian state of Assam is located. Assam stands out geographically for its broad plains, lush surroundings, and the mighty Brahmaputra River that flows across the state. It is well recognized for its varied geography, which includes hills, valleys, marshes, and thick woods. There are seven wonderful national parks in Assam.
The state has the third-highest number of National Parks in India after Madhya Pradesh's 12 and Andaman and Nicobar Island's 9 National Parks. Multiple national parks in the state offer visitors the chance to enjoy the unique flora and animals of the area. These parks are distinguished by their wide grasslands, wetlands,  and tropical forests, which provide abodes for a variety of animal species.
More than 35% of the state's area is covered in woods, contributing to its rich biodiversity. The tiger, rhinoceros, and elephant are among the few of the numerous endangered animals that call this state home.
Kaziranga National Park:
Kaziranga National Park is located in the northeastern Indian state of Assam. In 1985 this place was declared a UNESCO World Heritage Site known for its biodiversity and conservation initiatives. The park is situated in the Golaghat and Nagaon districts of Assam and covers an area of approximately 430 square kilometers (166 square miles). According to the latest census, the rhino population is 2613.
Key Points:
In 1908, Kaziranga was announced as a Protected Area by Lord Curzon.
In 1974, Kaziranga was declared a National Park.
Other animals found in the park include tigers, elephants, wild water buffalo, swamp deer, and various bird species.
Kaziranga National Park is characterized by tall elephant grass, wetlands, and tropical moist broadleaf forests.
The park's location in the floodplains of the Brahmaputra River contributes to its unique ecosystem.
With nearly 500 bird species recorded, Kaziranga National Park is a popular destination for birdwatchers, especially during the winter when migratory species visit.
The park is accessible to visitors only from November to April due to the heavy monsoon rains during other months.
The closest major city to the park is Guwahati, which has good transportation connections by train, road, and air.
The park serves as both a significant wildlife conservation area and a prominent tourism destination.
History:
1. The Assam (Rhinoceros) Bill, 1954 was an important piece of legislation that helped to protect the Indian rhinoceros from poaching, which led to falling from over 1,600 in the early 1900s to just over 350 by 1950. Without state government authorization, it is therefore illegal to kill, harm, or capture rhinos, according to the bill. It also instituted severe punishments for anybody discovered poaching rhinos, including a possible seven-year imprisonment term and a fine of up to 500 rupees. The measure also granted the state government the authority to designate specific regions as sanctuaries for rhinos, where poaching and hunting are strictly forbidden.

The Assam Rhinoceros Preservation Act, 1954 is a landmark piece of legislation that has played a vital role in the conservation of the Indian rhinoceros. It is a model for other states and countries seeking to protect their endangered wildlife.
2. The Assam National Park Act of 1968 was a significant piece of legislation that helped to protect Kaziranga National Park and its diverse wildlife. The act declared Kaziranga to be a designated national park, which gave it the highest level of protection under Indian law.
Specific provisions of the Assam National Park Act of 1968:
The act prohibits the hunting, killing, or capture of any wild animal within the park without a special permit from the National Park Authority.
The act also prohibits the collection of any plant or animal product from the park without a permit.
The act grants the National Park Authority the power to regulate access to the park and to close it to visitors if necessary.
The act also establishes penalties for violating the provisions of the act.
The Assam National Park Act of 1968 has been a successful model for the conservation of national parks in India. The act has helped to protect Kaziranga National Park and its wildlife for future generations.
3. Encroachment is one of the major threats facing Kaziranga National Park. Encroachers typically clear forest land for agriculture, grazing, or settlement. Encroachment can have a number of negative impacts on the park's wildlife, The Assam government has taken a number of steps to address encroachment in Kaziranga National Park. These steps include:
Evicting encroachers: The government has evicted encroachers from the park on a number of occasions. However, encroachment is a complex problem and it is difficult to prevent new encroachments from happening.
Creating buffer zones: The government has created buffer zones around the park to reduce the impact of encroachment and other human activities. Buffer zones are areas where certain activities are restricted, such as agriculture, logging, and construction.
Working with local communities: The government is working with local communities to develop sustainable livelihoods that do not rely on encroachment. This includes promoting ecotourism and other sustainable economic activities.
Encroachment is a challenging problem to address, but the Assam government is committed to protecting Kaziranga National Park and its wildlife. By working with local communities and taking other steps, the government is making progress in reducing encroachment and safeguarding the park for future generations.
Geography:
Kaziranga National Park is located in the floodplains of the Brahmaputra River. The Brahmaputra is one of the largest rivers in the world and carries a large amount of sediment. When the river floods, it deposits this sediment on the floodplain. Over time, this sediment buildup has created the flat expanses of fertile alluvial soil that characterize Kaziranga National Park. The annual floods of the Brahmaputra River also play an important role in maintaining the fertility of the soil.
The fertile alluvial soil of Kaziranga National Park supports a wide variety of plant life, including grasses, reeds, and trees. The plant life provides food and shelter for the park's diverse wildlife, including Indian rhinoceros, tigers, elephants, and swamp deer.
Fauna:
Kaziranga National Park is home to a significant breeding population of 35 mammalian species, of which 15 are threatened as per the IUCN Red List. This means that Kaziranga plays an important role in the conservation of these threatened species.
Here is a list of the 15 threatened mammalian species found in Kaziranga National Park:
Indian rhinoceros (Rhinoceros unicornis)
Tiger (Panthera tigris)
Asian elephant (Elephas maximus)
Wild water buffalo (Bubalus bubalis)
Gaur (Bos gaurus)
Eastern swamp deer (Rucervusduvaucelii)
Sambar deer (Cervus unicolor)
Indian hog deer (Axis porcinus)
Capped langur (Presbytis pileatus)
Hoolock gibbon (Hylobates hoolock)
Bengal slow loris (Nycticebus bengalensis)
Indian pangolin (Manis crassicaudata)
Greater hog badger (Arctonyxcollaris)
Ganges river dolphin (Platanista gangetica)
Orange-bellied Himalayan squirrel (Dremomyslokriah)
Western hoolock gibbon (Hoolock hoolock hoolock)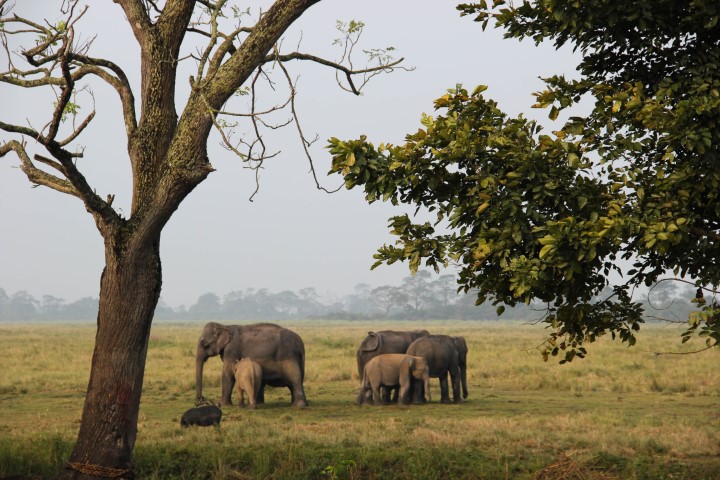 Kaziranga National Park is able to support these threatened species due to its large size, its varied habitats, and its abundance of food and water. The park also has a strong anti-poaching team that works to protect the park's wildlife from poaching.
How to reach Kaziranga National Park?
Kaziranga National Park is a famous wildlife sanctuary located in the northeastern Indian state of Assam. It is renowned for its population of the Indian one-horned rhinoceros and diverse wildlife. To travel to Kaziranga National Park, you can follow these steps:
By Air: The nearest major airport to Kaziranga is Lokpriya Gopinath Bordoloi International Airport in Guwahati, which is about 190 kilometers (118 miles) away. You can book a flight to Guwahati from major Indian cities and then proceed to Kaziranga by road.
By Train: The nearest railway station to Kaziranga is Furkating Junction, which is about 75 kilometers (47 miles) away. You can book a train to Furkating from various cities in India and then take a taxi or bus to Kaziranga.
By Road: You can also reach Kaziranga by road, either by hiring a taxi or driving your own vehicle. The park is well-connected by a network of national and state highways. The journey takes about 4-5 hours by taxi and 5-6 hours by bus from Guwahati.
Accommodation:
Kaziranga National Park offers a range of accommodation options, including government-run and private resorts, hotels, and lodges. It's advisable to book accommodation in advance, especially during the peak tourist season.
Entry Permits:
To enter Kaziranga National Park, you'll need to obtain an entry permit, which can be purchased at the park's entry gates. These permits have different fees for Indian and foreign nationals, and they also cover vehicle charges.
Once arrive in Kaziranga National Park, there are a number of different ways to get around the park, including:
Jeeps: Jeeps are the most popular way to get around Kaziranga National Park. Jeep safaris are organized by the park authorities and can be booked in advance or on arrival.
Elephants: Elephant safaris are another popular way to get around Kaziranga National Park. Elephant safaris offer a unique perspective of the park's wildlife and are a great way to see rhinos up close.
Canopy walks: Canopy walks are a great way to experience the park's rainforests from above. Canopy walks are located in the Burapahar and Kohora ranges of the park.
Respect the Wildlife:
   While enjoying your visit, remember that Kaziranga is home to a variety of endangered species. Be respectful of the park's rules and maintain a safe distance from the animals.
The best time to visit Kaziranga National Park:
   The best time to visit Kaziranga National Park is from November to April when the park is open to visitors. The monsoon season (June to September) is not recommended due to heavy rains and flooding.
Manas National Park:
Located in Assam, India, Manas National Park is a 950 square kilometer (370 square miles) UNESCO World Heritage Site. Manas National Park is renowned for its extraordinary biodiversity and natural beauty. The name of the park originated from the Manas River, which passes through the heart of the national park and is a major tributary of the Brahmaputra River. It is home to several threatened species, including the Indian rhinoceros, tigers, elephants, and golden langurs. Manas was declared one of India's First Tiger Reserves in 1973 as part of the Indian government's Project Tiger.
Manas was announced as a Protected Area in 1922.
On October 1, 1928, the Manas National Park was declared as a sanctuary.
In 1985 it was declared a UNESCO World Heritage.
In 1990, Manas was declared a National Park.
Manas is also known for its elephant population, which led to the establishment of an elephant reserve there in 2003.
The park is divided into three ranges.
It has over 450 species of birds, making it a popular birdwatching destination.
Features diverse ecosystems, including grasslands, woodlands, and wetlands.
Shares a border with Bhutan, forming a transboundary conservation area.
Activities include jungle safaris, birdwatching, and nature walks.
The best time to visit is during the dry season from November to April.
Orang National Park:
Orang National Park, also known as Rajiv Gandhi Orang National Park, is a wildlife sanctuary which is located in the Indian state of Assam's Darrang and Sonitpur districts. About 78.80 square kilometers (30 square miles) make up Orang National Park. In 1985, it was designated as a Sanctuary, and on 13 April 1999, it was made a National Park. The park is distinguished by its rich wetland ecology and is located along the northern riverbank of the Brahmaputra. One of the biggest draws for tourists to Orang National Park is its population of giant Indian one-horned rhinoceroses.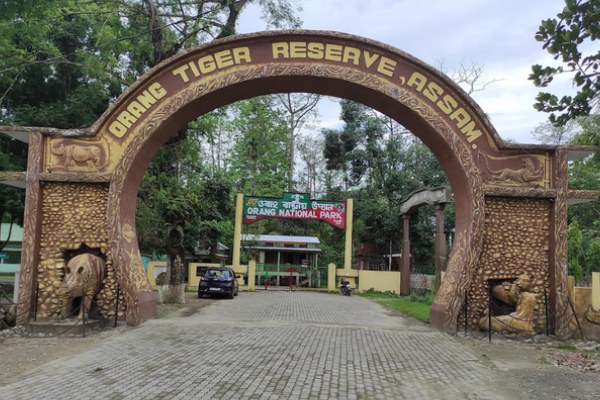 Alongside the rhinos, the park is also home to tigers, elephants, wild boars, leopards, deer, and a variety of bird species.
The park is an attractive spot for birding because it offers a significant habitat for an array of endangered and migratory bird species.
The park's vegetation, which consists of marshes, grasslands, and woodlands, offers a good habitat for a variety of species.
There are Seven species of Turtle and Tortoise are found in this Park.
The best time to visit Orang National Park is during the winter season from November to April when the weather is pleasant, and wildlife sightings are more frequent.
Visitors can explore the park through jeep safaris and guided nature walks, allowing them to experience the rich biodiversity up close.
Orang National Park participates in conservation initiatives and is crucial for conserving and safeguarding endangered species.
Nameri National Park:
The Sonitpur district of Assam, India, is where Nameri National Park is situated. It is surrounded by the Jia Bhoroli River and is located close to the Eastern Himalayan foothills. 200 square kilometers (77 square miles) or so is roughly how much land the park occupies. It is known for having an extensive diversity of animals and greenery. Several endangered and unusual species can be found in the park. After Manas Tiger Reserve, Nameri National Park is the second Tiger reserve of Assam.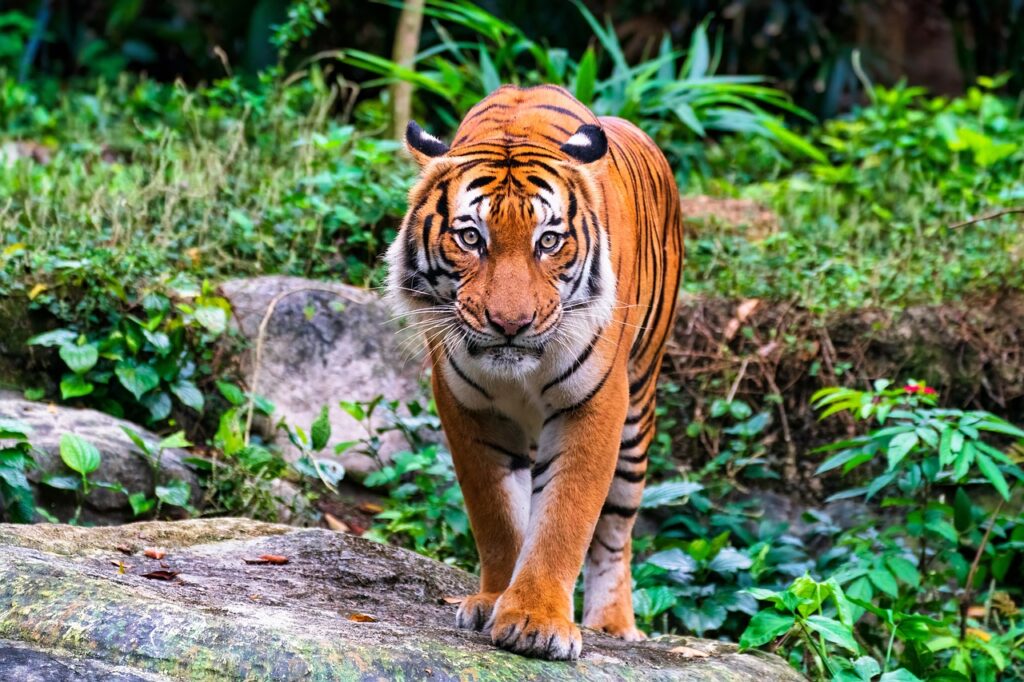 On 15th November 1998, Nameri was declared a National Park.
In the year 1999-2000, Nameri National Park was declared a Tiger Reserve.
Bengal tigers, Indian elephants, leopards, clouded leopards, dholes, Himalayan black bears, wild boars, and different deer species are among the region's notable biodiversity.
Bamboo woods, moist deciduous trees, and semi-evergreen trees make up the park's vegetation.
With over 300 kinds of birds, including the white-winged wood duck, great pied hornbill, wreathed hornbill, and black stork. Nameri National Park is a sanctuary for birdwatchers.
The river Jia-Bhoroli which flows along the southern edge of the park from northwest to southeast is the lifeline of Nameri National Park.
Dibru-Soikuwa National Park:
A national park named Dibru-Saikhowa is situated in India's Assam state, in the country's northeast. It lies in the Brahmaputra River's floodplains and stretches across an area of 340 square kilometers (131 square miles). The park has been designated as a biosphere reserve and is renowned for its distinctive biodiversity.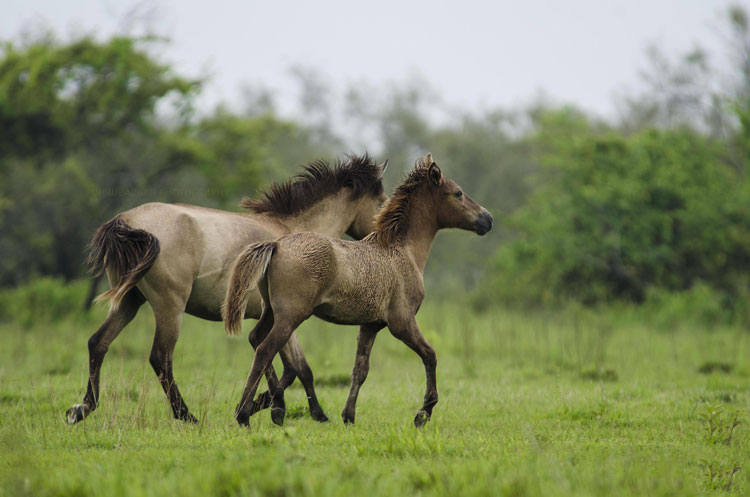 Numerous types of plants and animals may be found in the park. Forests, marshes, and grasslands are all included. Canebrakes, grassland swaths, and damp mixed semi-evergreen woods are among the plant life. Species like the white-winged wood duck, Bengal florican, and Hoolock gibbon are among the uncommon and endangered species that call this area home. Other noteworthy wildlife species include tigers, leopards, elephants, deer, wild boars, wild horses, and different birds and reptiles.
The park is intersected by several rivers, including the Brahmaputra, Dibru, Lohit, and Saikhowa.
Dibru-Saikhowa is known for its extensive wetlands, which are rich in aquatic flora and fauna.
The wetlands convey crucial places for migrating birds, ducks, and many fish species.
The park is also home to the Dibru-Saikhowa Biosphere Reserve, which includes the only sanctuary for the endangered Ganges River Dolphin in Assam. The Dolphin Conservation Reserve is located on the eastern side of the park, along the Brahmaputra River.
Raimona National Park:
Raimona National Park is a national park located in the district of Assam, India. It was established on 5th June 2020 and covers an area of approximately 422 square kilometers (163 square miles). It was declared a National Park on 5 June 2021 by the announcement of Assam's Chief Minister HimantaBiswa Sarma on the occasion of World Environment Day at Gandhi Mandap, Guwahati. On 9 June 2021it became a National Park. The park is situated within the larger Chirang-Ripu Elephant Reserve and is surrounded by the Raimona Reserved Forest.
The present Raimona National Park was originally recommended as Ripu-Chirang Wildlife Sanctuary being part of the Ripu reserved forest and Chirang reserved forest being adjacent a part of it.
It is bounded by tributaries of the Brahmaputra, the Sonkosh River on the west, and the Saralbhanga River on the east. The Pekua River makes Raimona national park's southern boundary.
The area is located along the Himalayan foothills and together with the Phibsoo Wildlife Sanctuary of Bhutan and Buxa Tiger Reserve of West Bengal forms a fairly large transboundary conservation landscape of more than 2,400 km2.
Raimona National Park is famous for the golden langur, an endemic species (with Bhutan) which has been named the mascot of the Bodoland region. It also has an Asian elephant, Bengal tiger, clouded leopard, gaur, chital, four to five species of hornbills, more than 150 species of butterflies, 190 species of birds, and 380 varieties of plants and orchids.
Dehing Patkai National park:
Dehing Patkai National Park is an enormous national park in Assam that is characterized by lush rainforests. It lies in the districts of Dibrugarh and Tinsukia. The government of Assam identified the area as a wildlife sanctuary on June 13, 2004, and on December 13, 2020, the government of Assam elevated its status to a national park. On June 9, 2021, Assam's Forest Department gave it official recognition as a national park.DehingPatkai National Park also serves as the DehingPatkai Elephant Reserve under Project Elephant.
This park is famous for the white-winged wood duck, the State Bird of Assam.
It is the only national park in India that is home to seven different species of wild cats, including the tiger, leopard, clouded leopard, leopard cat, golden cat, jungle cat, and marbled cat.
With an average annual rainfall of more than 4,000 mm, the area has a mostly tropical climate. At least 60 mm of precipitation fall each month.
The slow loris, Assamese macaque, stump-tailed macaque, pig-tailed macaque, Rhesus monkey, capped langur, and hoolock gibbon are among the various species. Nearly 50 mammal species, 47 species of reptiles, and 310 species of butterflies have been identified thus far.
Crab-eating mongooses, small-toothed palm civets, binturong, jungle cats, leopard cats, Asian golden cats, marbled cats, Bengal tigers, leopards, clouded leopards, Asian elephants, gaur, red serow, sambar, barking deer, Red giant flying squirrel, crestless Himalayan porcupines, and Asiatic bush-tailed porcupines are among the other notable mammals found in this national park.
DihingPatkai rainforest harbors about 293 bird species, belonging to 174 genera and 51 families.
Greater Spotted Eagle, Besra, Black Basi, Osprey, Pale-capped Pigeon, Green Imperial Pigeon, Mountain Imperial Pigeon, Red-breasted Parakeet, Oriental Bay Owl, Tawny Fish Owl, Great Pied Hornbill, Brown Hornbill, Wreathed Hornbill, Yellow-vented Warbler, Hill Myna, and White-cheeked Hill Partridge are among the avifauna.
The important species of over wood are Dipterocarpus macrocarpus, Mesua ferrea, Castanopsis indica, Shoreaassamica, Vaticalanceaefolia, Amoorawallichii, Dysoxylumbinectiferum, etc.