Introduction:
The progress of a nation without transportation is unthinkable. Mobility is a basic human right. Unless there is a good, safe, comfortable, and efficient transport system which causes the least damage to the environment, the country will not be able to move ahead in the global context. This space covers all modes of transport, viz., Road, Rail, Air and Water. Transportation in India is large and diverse; it caters to the needs of 1.4 billion people. In 2007, the transportation sector contributed about 5.5 per cent to the nation's GDP, with road transportation contributing the lion's share.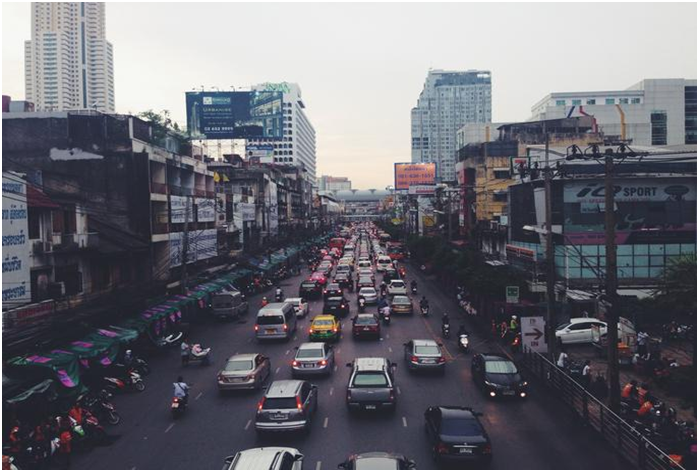 The transportation system in India comprises a number of distinct modes and services, notably railways, roads, road transport, ports, inland water transport, coastal shipping, airports, and airlines. Railways and roads are the dominant means of transport carrying more than 95% of total traffic generated in the country. With an increase in the types of motor vehicles, there has been a gradual transition from rail-dominated transport to road-dominated transport over the last few decades. The share of railways in passenger/km has decreased by 60%. Transport of passengers and goods is vital to satisfy mobility needs, which is commensurate with today's lifestyle characterized by social interactions and reliable goods distribution nationwide. The transportation system of any country works as the backbone of the nation's economy. Transportation infrastructure needs to be upgraded periodically, as per the requirement of the economy.
The transport sector in India is also one of the fastest-growing sources of greenhouse gas emissions and an important factor in India's economic success over the past two decades. In fact, transportation accounts for a 6.4% share of India's GDP, with road transportation contributing 4.5%. The Transportation in India currently relies on more traditional forms of fuel like coal and natural gas (98%) and oil (2%), though Electric Vehicle (EV) and alternative and biofuel technology are currently in different stages of development. Road transport primarily consumes diesel and petrol, and GHG emissions from the transport sector include carbon dioxide (CO2), methane (CH4), and nitrous oxide (N2O).Mahindra, an Indian automobile manufacturer, currently produces EV models, the Reva, e20, XUV400. Other companies in the market have come up with their own vehicle such as TATA there is NEXON EV, from Hyundai its HYUNDAI KONA. Two-wheeler companies have also come up with their product in this future rising market.
Following the economic liberalization reforms initiated in 1991, there has been a remarkable increase in passenger and freight traffic in India, coinciding with a nearly 63.69% rise in GDP per capita between 1991 and 2013 . During this period, gross domestic product nearly doubled, and the number of registered motor vehicles surged from 5.4 million in 1980 to 72.7 million in 2003, reflecting the growing significance of Transportation in India. To enhance access to markets and foster economic development, both foreign and domestic investments in road infrastructure projects have increased substantially, shaping the landscape of Transportation in India.
In this blog, we have collated a brief review of all 4 modes of transportation:
Railways
Roadways
Waterways
Airways

Railways:
Indian Railways is one of the largest railways under a single management. It carried some 19.8 million passengers and 2.4 million tonnes of freight a day in the year 2009 and is one of the world's largest employers. The railways play a leading role in carrying passengers and cargo across India's vast territory. However, most of its major corridors have capacity constraints requiring capacity enhancement plans.
Compared with road transport, it is inexpensive, fuel-efficient and environmentally friendly. With a total route of almost 65,000 km, India boasts the second-largest rail network in the world. Railway is also technologically one of the least developed modes of transport in India. In the 66 years of independence, only 21.5 per cent of new route km have been added and the maximum commercial speed has only increased from 80-100 km/h to 140 km/h (while the average speed is much lower at 110 km/h).  This contrasts with the global picture where speeds in excess of 300 km/h have been consistently maintained by trains in Germany, China, France, South Korea, Taiwan, Spain, Japan, Italy, Belgium and the UK.
The Table Provided Below Represents Different Railway Zone With Their Headquarters:
| | |
| --- | --- |
| RAILWAYZONE | HEADQUARTERS |
| Central | Mumbai(CST) |
| Northern | New Delhi |
| Eastern | Kolkata |
| Northern-Eastern | Gorakhpur |
| North-East Frontier | Maligaon-Guwahati |
| Southern | Chennai |
| South Central | Secunderbad |
| South-Eastern | Kolkata |
| Western | Mumbai Churchgate |
| East Coast | Bhubaneshwar |
| East Central | Hajipur |
| South-western | Hubli |
| West Central | Jabalpur |
| North Central | Prayagraj |
| North-western | Jaipur |
| South-East Central | Bilaspur |
| Kolkata Metro | Kolkata |
| South coast railway | Visakhapatnam |
FACTS
The first Indian train ran between Bombay and Thane, a stretch of 34 km on 16th April 1853
The Longest train route is the "Vivek Express" from Dibrugarh in Assam to Kanyakumari in Tamil Nadu. It covers a distance of 4273 km(2655 miles).
The first electric train in India was the Deccan Queen. It was introduced in 1929 between Bombay and Poona.
The first Metro train was introduced in Kolkata (W. Bengal) on 24th October 1984. The two stations connected were Dumdum and Belgachhia.
The rapid metro train started in Gurgaon (Haryana) on 14th November 2013.
As of January 2021, there are 13 operational rapid transit (metro rail) in India. Delhi Metro is the Largest and busiest metro in India.
The Indian Railways operate in three different gauges i.e. Broad Gauge(distance between rail is 1.676), metro gauge(distance between rail is 1.00 mm) and Narrow Gauge (distance between rails is 0.762 or 0.610m).
Vande Bharat Express also known as Train 18, is an Indian semi-high-speed electric(India's fastest train)train made by Integral Coach factory, Chennai, under Make in India program.
Road Transport:
Since the 1990s, major efforts have been underway to modernize the country's road infrastructure. The length of national highways in India has increased from 70,934 km (44,076 mi) in 2010–11 to 132,500 km (82,300 mi) in 2019. As of May 2017, India had completed and placed into use over 28,900 kilometres (18,000 mi) of four- or more-lane highways connecting many of its major manufacturing, commercial and cultural centres. According to the Ministry of Road Transport and Highways, as of March 2019, India had about 132,500 kilometres (82,300 mi) of national highways and expressways, plus another 176,166 kilometres (109,464 mi) of state highways.
Historical Facts:
Road mobility in India has risen from around 3400 billion passenger-km in 2004-05 to over 8000 billion passenger-km in 2012-13 and is touching a figure of 11000 currently. The number of registered vehicles in India is constantly rising, ramping up the pressure on the fragile road infrastructure. At the end of 2013, the number of registered vehicles in India was 182 million. This figure is expected to grow threefold by 2035. The first evidence of road development in the Indian subcontinent can be traced back to approximately around 2800 BC in the ancient cities of Harappa and Mohenjo-Daro of the Indus Valley Civilization. Ruling emperors and monarchs of ancient and medieval India continued to construct roads to connect the cities. The existing Grand Trunk Road was rebuilt by the Mauryan Empire and further rebuilt by subsequent entities such as the Sur Empire, the Mughal Empire and the British Empire.
In the 1830s, the British East India Company started a programme of metaled road construction (a.k.a. gravel road), for both commercial and administrative purposes. The Grand Trunk Road – from Calcutta, through Delhi to Peshawar – was rebuilt at a cost of £1,000 per mile; roads from Bombay to Pune, Bombay to Agra and Bombay to Madras were constructed; and a Public Works Department and the Indian Institute of Technology Roorkee were founded, to train and employ local surveyors, engineers and overseers, to perform the work, and to maintain the roads. This programme resulted in an estimated 2,500 kilometres (1,600 mi) of metaled roads being constructed by the 1850s.
The National highways in India are a network of trunk roads owned by the Ministry of Road Transport and Highways. It is constructed and managed by the National Highway Authority of India (NHAI), the National Highways and Infrastructure Development Corporation (NHIDCL), and the public works departments (PWD) of state governments.
FACTS
NH44(3745KM)is the longest highway of India(Srinagar to Kanyakumari)
NH548 is the shortest national highway with a length of 5km.
India has one of the largest road networks in the world (48 lakh km approx). It consists of national highways, state highways; major/other district roads and rural roads.
Maharashtra has the maximum length of Surfaced Roads in India.
India's longest Greenfield 6lane expressway named as AGRA-LUCKNOW expressway has been inaugurated in Uttar Pradesh.
Important National Highways:
NH1-New Delhi-Ambala-Jalandhar-Amritsar.
NH2-Delhi-Mathura-Agra-kanpur-Allahabad-Varanasi-Kolkata.
NH3-Agra-Gwalior-Nasik-Mumbai.
NH4-Thane and Chennai via Pune and Bengaluru.
NH5-Kolkata-Chennai.
NH6-kolkata-Dhula.
NH7-Varanasi-kanyakumari(2369km).
NH8-Delhi-Mumbai.
NH9-Mumbai-Vijaywada.
NH10-Delhi-Fazilka.
Traffic Colors Used On National Highways:
National Highways – Yellow and White
State Highways – Green and White
City Highway – Black and White
How Indian Highways Are Numbered:
The Ministry of Road Transport and Highways officially published a new numbering system for the national highway network.
North-South highways will carry EVEN numbers.
East-West highways will have ODD numbers.
All major Highways will be single-digit or double-digit in number.
North-South highways will increase their numbers from East to West. For example, a particular North-South highway in Central India or Western India will have a higher number than one in East India.
Three-digit numbered highways are secondary routes or branches of a main highway. For example, 144, 244, 344, etc. will be the branches of the main National Highway 44.
Suffixes A, B, C, D, etc. are added to the three-digit sub-highways to indicate very small spin-offs or stretches of sub-highways. For example, 966A, 527B, etc.
Waterways Transportation in India:
Water transport is the easiest and cheapest mode of transport. Unlike rail and road transport we do not have to construct waterways because rivers and seas are given by nature.
Water transport plays an important role in the case of international trade. During natural calamities like heavy rain and flood, when rail and road transport are not workable, rescue operations are undertaken by water transport.
Waterways are an important mode of transport for both passenger and cargo traffic in India. It is the cheapest means of transport and is most suitable for carrying heavy and bulky material. It is a fuel-efficient and eco-friendly mode of transport. Water transport is of two types– (a) inland waterways, and (b) oceanic waterways. Waterways are an important mode of transport for both passenger and cargo traffic in India. It is the cheapest means of transport and is most suitable for carrying heavy and bulky material. It is a fuel-efficient and eco-friendly mode of transport. Water transport is of two types– (a) inland waterways, and (b) oceanic waterways.
As per the National Waterways Act,2016,111 waterways have been declared as National Waterways-
India has a large network of water bodies in the form of rivers, Lakes, Canals and backwaters. These long waterways provide a good mode of transport across the cities as well as towns, like the backwaters of Kerala, Canals in Gujarat and a few waterways in Goa, West Bengal and  Assam. Still, these inland waterways are unutilized in India as compared to other countries in the world, Inland Waterways Authority of India is working on new projects for waterways and better water transportation in India.
Sl. No.
National Waterway (NW) No.
Length (km)
Location (S)
1
NW-1: Ganga-Bhagirathi-Hooghly River System (Haldia – Allahabad)
1620
Uttar Pradesh, Bihar, Jharkhand, West Bengal
2
NW-2: Brahmaputra River (Dhubri – Sadiya)
891
Assam
3
NW-3: West Coast Canal (Kottapuram – Kollam), Champakara and Udyogmandal Canals
205
Kerala
4
Waterways in Maharashtra:
i) NW-10 (Amba River)
ii) NW-83 (Rajpuri Creek)
iii) NW-85 (Revadanda Creek – Kundalika River System)
iv) NW-91 (Shastri River–Jaigad creek system)

82
Andhra Pradesh
5
Waterways in Maharashtra:
i) NW-10 (Amba River)
ii) NW-83 (Rajpuri Creek)
iii) NW-85 (Revadanda Creek – Kundalika River System)
iv) NW-91 (Shastri River–Jaigad Creek system)

45
31
31
52
Maharashtra
6
National Waterways in Goa:
i) NW-68 – Mandovi – Usgaon Bridge to Arabian Sea (41 km)
ii) NW-111 – Zuari– Sanvordem Bridge to Marmugao Port (50 km).

41

51

Goa
7
National Waterways in Gujarat:
i) NW-73- Narmada river-
ii) NW-100- Tapi river
226
436
Gujarat & Maharashtra
8
Sunderbans Waterways (NW-97): Namkhana to AtharaBankiKhal in West Bengal
172
West Bengal
(through Indo-Bangladesh Protocol Route)
Important Ports in India:
The majority of ports in India are located in the below-given states-
Maharashtra -53
Gujarat -40
Tamil Nadu – 15
Karnataka – 10
India has a coastline spanning 7516.6 kilometres, forming one of the biggest peninsulas in the world. According to the Ministry of Ports, Shipping and Waterways, around 95 per cent of India's trading by volume and 70 per cent by value is done through maritime transport. It is serviced by 13 major ports (12 Government-owned and one private) and 187 notified minor and intermediate ports. Port Blair which was notified as a major port in 2010 was removed from its status recently. India is surrounded by the Bay of Bengal, the Arabian Sea, and the Indian Ocean.
Ports are an important centre for trade and travel as well, mostly bringing in commercial benefits and advantages. Ports make the city (location) extremely valuable and the economy of that area thrives.
India has a coastline of more than 7000 km. In 2007, major ports handled 74% of the traffic in India. There are about 200 major and non-major sea ports in India, including the ports in Maharashtra, Gujarat, Tamil Nadu, Karnataka, and others.

Air Transport:
In a densely globalized economy, air transport is a key element in the country's transport infrastructure. The Indian aviation industry has grown by leaps and bounds since the first aeroplane flew in February 1911. The set-up of Tata Airlines by J.R.D. Tata in 1932, saw the birth of the Indian aviation industry. Tata Airlines was later acquired by the government of India and was rechristened by Air India in the post-independence era. The civil aviation industry in India has emerged as one of the fastest-growing industries in the country during the last three years. India has become the third-largest domestic aviation market in the world and is expected to overtake the UK to become the third-largest air passenger market by 2024.
India's passenger traffic stood at 341.05 million in FY20. It grew at a compound annual growth rate (CAGR) of 11.13% during FY16-FY20. Domestic passenger traffic stood at 274.50 million in FY20, growing at a CAGR of 12.91% over FY16. International passenger traffic stood at 66.54 million, growing at a CAGR of 5.01% during FY16-FY20. Freight traffic grew at a CAGR of 5.32% during FY16-FY20 from 2.70 million tonnes (MT) to 3.33 MT. Freight Traffic is expected to grow at a CAGR of 7.27% to reach 4.14 MT in FY23.
India's passenger traffic stood at 341.05 million in FY20. It grew at a compound annual growth rate (CAGR) of 11.13% during FY16-FY20. Domestic passenger traffic stood at 274.50 million in FY20, growing at a CAGR of 12.91% over FY16. International passenger traffic stood at 66.54 million, growing at a CAGR of 5.01% during FY16-FY20.
Freight traffic grew at a CAGR of 5.32% during FY16-FY20 from 2.70 million tonnes (MT) to 3.33 MT. Freight Traffic is expected to grow at a CAGR of 7.27% to reach 4.14 MT in FY23.
Aviation in India, broadly divided into military and civil aviation, is the fastest-growing aviation market in the world according to the International Air Transport Association (IATA). The hub of the nation's aviation manufacturing industry is Bangalore which has a 65% share of this economic sector. The government's UDAN (regional connectivity scheme) is driving the growth of civil aviation and aviation infrastructure in India.
Government Initiatives:
Some major initiatives undertaken by the Government are:
In March 2021, on the launch of the 'Azadi Ka Amrit Mahotsav (India@75)' by the Government of India, the Ministry of Civil Aviation (MoCA) proposed 392 routes under the UDAN 4.1 bidding process.
The Airport Authority of India plans to abolish royalties and offer steep discounts on lease rent to encourage MRO units to set up facilities at its airports.
The government is planning to start 14 more water aerodromes across the country, after the successful launch of seaplane service by Prime Minister, Mr. Narendra Modi, between the Statue of Unity near Kevadiya in Gujarat's Narmada district and Sabarmati Riverfront in Ahmedabad in October 2020.
In November 2020, the Government of India announced that it is likely to increase the total number of allowed domestic flights to 75% of the pre-COVID-19 levels, as it expects a rise in passenger numbers due to the festive and holiday season.
In September 2020, the Government of India sanctioned Rs. 108 crore (US $ 14.73 million) for Jagdalpur, Ambikapur and Bilaspur airports in Chhattisgarh under the UDAN scheme for upgrade and development.
Under Union Budget 2021-22, the government lowered the customs duty from 2.5% to 0% on components or parts, including engines, for the manufacturing of aircraft by public sector units of the Ministry of Defence.
Under Union Budget 2021-22, the Indian government expanded the scope for 'Krishi Udaan' in convergence with Operation Green Scheme, wherein air freight subsidy of 50% for agri-perishables would be provided to North-East states and 4 Himalayan states/UTs. The expansion of product coverage will boost the 'Krishi Udaan' scheme and improve air cargo transportation from these states.
In February 2019, the Government of India sanctioned the development of a new greenfield airport in Hirasar, Gujarat, with an estimated investment of Rs. 1,405 crore (US$ 194.73 million).
The Regional Connectivity Scheme (RCS) has been launched.
Civil Aviation:
India had the world's third-largest civil aviation market in 2017 with the number of passengers growing at an average annual rate of 16.3% between 2000 and 2015 It recorded an air traffic of 131 million passengers in 2016. Despite this growth, much of the country's aviation potential remains untapped Indigo, Air India, SpiceJet and are the major carriers in order of their market share. These airlines connect more than 80 cities across India and are joined by several foreign airlines providing international routes.
Military Aviation:
The President Of India serves as the ex-officio commander-in-chief of the Indian Armed Forces with the Ministry Of Defence responsible for policy. The air arms of the armed forces are the Indian Airforce (IAF), commanded by the Chief Of Air Stuff, the Indian Naval Air Arm, the Army Aviation Corps, and Indian Coast Guard Aviation. This mode of transport is indispensable when speed and time are the main constraints. One can easily cross and reach remote, inaccessible and hostile areas like lofty mountains, thick forests, marshy areas and sandy deserts by air transport which is almost impossible by other modes of transport.
Air transportation in India made a humble beginning in 1911 when air mail operations commenced over a small distance of 10 km between Allahabad and Naini. The British, French and Dutch introduced air transport in 1929-30. Indian National Airways was formed in 1933 and it introduced air service between Karachi and Lahore. By the end of World War II, major cities like Karachi, Mumbai, Delhi, Kolkata, Lahore and some other places were provided with air services.
At the time of partition of the country in 1947, there were four companies namely Tata Sons Ltd./Air India, Indian National Airways, Air Services of India and Deccan Airways. By 1951, four more companies viz. Bharat Airways, Himalayan Aviation Ltd., Airways India and Kalinga Airlines also came up. In 1953, air transport was nationalized and two corporations were formed: Air India International and Indian Airlines.
Private Sector:
Private taxis started their services in 1990 and played a feeder role to Indian Airlines. Only four parties ventured into this area at that time due to the restrictive environment. In a major policy change, the Government repealed the Air Corporation Act 1953 on March 1, 1994, thereby ending the monopoly of Indian Airlines and Air India on scheduled operations.
Private operators, who were hitherto operating as air taxis, have since been granted scheduled airline status. At present, there are five private scheduled airlines operating on a domestic network. This has given the passengers a wider choice of flights. In addition, 37 air taxi operators have been given permits for charter non-scheduled air transport services.
Airports:
There are around  449  airports/airstrips in the country in various stages of development. Of these, 314 are considered serviceable but only 81 airports are in operation. The top six airports account for 70 per cent of the domestic air traffic while the top 25 airports account for more than 90 per cent of air traffic.
The International Airports Authority of India and the National Airports Authority were merged on 1 April 1995 to form the Airports Authority of India (AAI). It controls and manages the entire Indian space even beyond the territorial limits of the country in accordance with the norms set by the International Civil Aviation Organization (ICAO). It comprises of International Airport Division (IAD) and the National Airports Division (NAD).
The improvement of infrastructure at the airports needs heavy capital investment which the government cannot afford of its own. Therefore, private domestic and foreign investors including NRIs have been encouraged to participate in the process of improvement.
Top 11 Airports Of India:
IATA
Name
City
Airlines
Destinations
DEL
Indira Gandhi International Airport
New Delhi
59
97
BOM
Chhatrapati Shivaji International Airport
Mumbai
49
83
MAA
Chennai International Airport
Chennai
32
40
BLR
Kempegowda International Airport
Bangalore
28
40
COK
Cochin International Airport
Kochi
24
22
HYD
Rajiv Gandhi International Airport
Hyderabad
20
32
TRV
Trivandrum International Airport
Thiruvanantha
puram

19
17
CCU
Netaji Subhash Chandra Bose International Airport
Kolkata
19
37
AMD
Sardar Vallabhbhai Patel International Airport
Ahmedabad
13
18
GAU
Lokpriya Gopinath Bordoloi International Airport
Guwahati
7
12
Conclusion:
In the conclusion statement, we like to say that the transportation system in India is very vast which helps the economy of the country to grow and flourish. Being a developing country the scope of this transportation system is wide and helps its in growing. India has made tremendous advances in some areas, including its technology and related aerospace sectors. India's struggles to develop and expand infrastructure throughout its vast and densely-populated cities, towns and villages are well known, and transportation is one example of the nation's shortcomings. Inadequate transportation infrastructures will invariably degrade any country's ability to provide for the welfare of its people. Inadequate transportation infrastructures will invariably degrade any country's ability to provide for the welfare of its people.